Unlocking Locked Chests
New Feature Update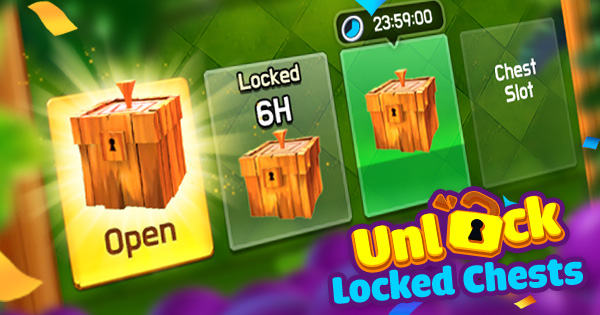 Be renewed from the previous chest system of Fruit Target, this newest feature will definitely make you feel tougher in conquering your journey, but the challenge makes you so much stronger! In common, all that you have is of course the deserved rewards. Fruit Hunters, be patient!
Follow us to find out more!
How it works
It's started from winning the arena battles, Fruit Hunters are still awarded with different kinds of chests as before but without opening them immediately. So, then how? That is to have to wait for a set amount of time before unlocking them. Naturally, the chests based on the their value and correspond to a different time amount for unlocking, and the opening time of each chest is cooled down before being opened as soon as you click it. Further, you just be allowed to open another chest after completing the current locked chest. However, the chest rewards can be unlocked immediately if you own the Golden Key, each one is counted as 2 hours. You can gain the Golden Key in Gacha Watermelon and Gold Purchases.
In case, all chest slots are full and no chest has been opened yet, you won't be received the next chest rewards from arena.
The rewards
By tapping on each chest, their own contents and rewards are shown up but randomly things. Remember that all of these chest rewards aren't based on your current arena rank.
Below is a listing of every chest you'll find, please take a look on their inside!
| Chest | Gold | Fruit Pieces | Wood | Stone | Iron |
| --- | --- | --- | --- | --- | --- |
| Apple Chest | 4000-4,500 | 2 Random Pieces | 10-13 | 1-2 | 1-2 |
| Wooden Chest | 5000-5,500 | 3 Random Pieces | 23-35 | 3-5 | 1-2 |
| Ice Chest | 6000-6,500 | 4 Random Pieces | 60-75 | 4-6 | 2-5 |
| Bone Chest | 8000-8,500 | 5 Random Pieces | 85-105 | 5-10 | 3-5 |
| Legendary Chest | 10000-10,500 | 6 Random Pieces | 100-120 | 10-15 | 5-7 |