Crowns
THE WINNING KEY IN ARENA & OPEN ARENA CHEST
If you are a familiar fruit hunter in Arena mode of the FRUIT TARGET world definitely has seen the appearance of these wonderful Crowns. It will let you know how the bravery of a good hunter is. The more crown you gain in a battle, the bigger the chance of winning. In short, these Crowns are the mose important item in Arena to determine who the winner is and also get the oppoturnity to open the Arena Chest outside quickly. Remember that this item will only available in the Arena!
Let's find out more details!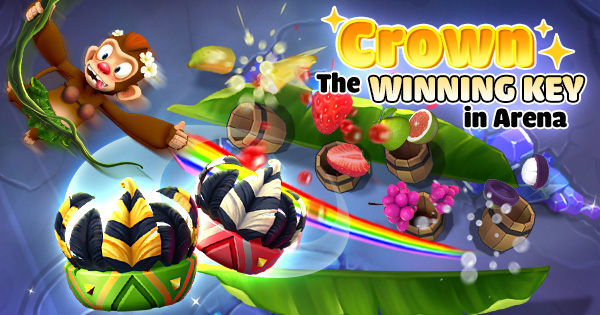 1. How to get
In order to gain Crowns, you have to complete the Leaf Combo of Hakhi monkeys (on the top of the screen) but it's not easy for earning cause your opponent is there for you. It'll be such a very tense battle! Don't be wrong, your colour crown is green and your opponent is red.
Especially, the number of Crown will be doubled in the last 60 seconds. Is it great right? I'm sure that is the motivation to fight until the last second.
2. Open the Arena Chest
For more interesting, it's not only the winning over the opponent but also get more turns to open the Arena Chest outside the Arena mode. The required Crown for a chest opening is 10 and you'll get more rewards from it. Unfortunately, you can only open two Arena Chests in a day. Let's take advantage of this amazing chance!
Are you ready to hunt these precious Crowns yet? Hunt now!